5 ENVIRONMENTAL BENEFITS OF SOLAR PANELS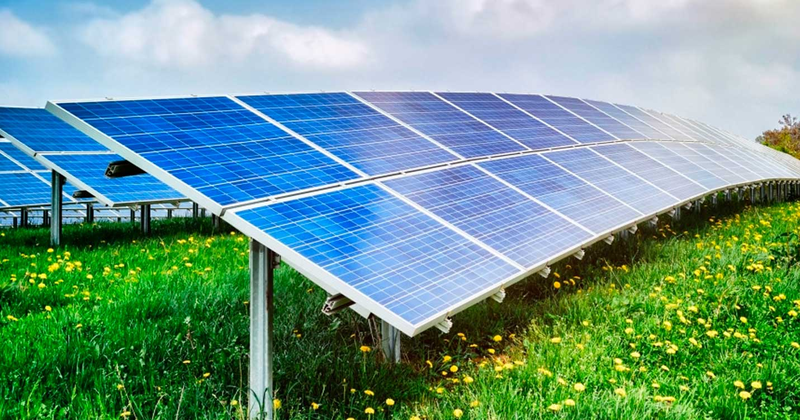 With the growing pollution, this world is in dire need of intoxication. Advancements have no doubt created ease for humans, but it has significantly created a toxic environment for other habitats and the earth itself also. So, it is time to play our part towards mother nature and create a healthier environment for future generations.
One of the trending ways for this is to decrease carbon emissions into the environment. You can do this by switching to solar panels. We have listed the top environmental benefits of installing solar panels in your commercial and residential areas:
REDUCES ENERGY CONSUMPTION AND LOWERS HUGE BILLS: 
Solar panel, the word itself describes that the panel uses solar power to generate energy that supports your home battery backup system. By turning solar you will not only reduce the overall energy consumption but also save money. With an advanced lifestyle comes more energy consumption. You can either go solar or pay huge bills to maintain the standard of the advanced lifestyle. A wiser option would be to make a one-time investment and enjoy a stress-free future. 
Do you know that one hour of sunlight equals one year's worth of energy for the entire earth? Now imagine how much electricity your solar panel would produce that would save you from huge electricity bills.
PRODUCES RENEWABLE AND CLEAN ENERGY:
The solar panel uses solar power to generate electricity hence there are lesser carbon emissions in the environment that generates from huge powerhouses. Added to this, solar panels do not produce any sort of air pollution that is produced by the burning of coals, gases, and oil in the energy-producing power plants. Breathe cleaner air and make a safer and healthier future for your generations to come by going solar. 
EFFICIENT WAY OF ELECTRICITY:
As long as efficiency is concerned, the solar panel is the best investment you can consider to produce electricity. It eliminates the long transmission lines hence lowers the power loss due to long distance. The solar panel does not only produce enough energy with the least power loss but also saves the residual energy for later use. Solar panels have a perfect home battery backup system that stores energy that is not used and consumes it when there is increased usage of electricity.
REDUCES DEPENDENCE ON LOCAL/ NATIONAL POWER GRID:
Unannounced power cuts due to storm or voltage fluctuation can be frustrating. Also, increased use of electricity during vacation especially in the current pandemic crisis increases. But your earnings are static. That is when solar panels come to the rescue. If you have solar panels as your home battery backup system then you do not need to worry if the power grid trips in any case. Also, you can utilize solar panels produced energy whenever you have an increase in electricity use to avoid huge bills. 
CHEAPER ALTERNATIVE FOR ELECTRICITY:
Solar panels have incurred a dramatic loss in their price of about more than 70%. In addition to that solar panels do not require any regular or high maintenance. So, it is now widely opted by a number of households as well as businesses. Solar panels are long-lasting and come with a warranty period of decades.  Also, you are safe from increasing prices of energy consumption. So, who would not like to save some money and live with a brighter alternative? 
Conclusion:
Now that you know the 5 basic environmental benefits of solar panels, is it still a question why buy solar panels? If you are a homeowner or own a commercial property, save yourself from huge expenses on energy bills and go solar. You can check out RW solar and electric to buy the best solar panels for your home battery backup system.