5 Facts and Unbiased facts about Maruti Suzuki Jimny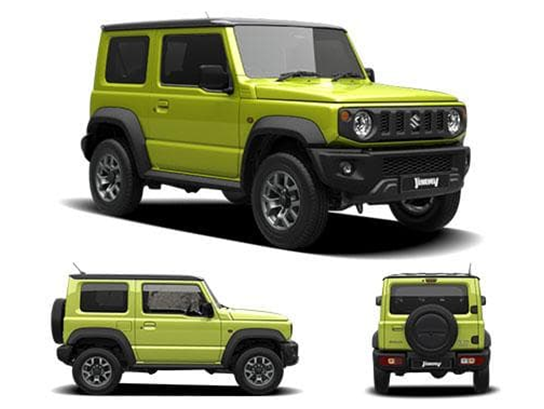 In Indian markets, SUV'S have been sweeping rapidly as consumers are leaning more towards the tradition of big space with less money option. Maruti Suzuki is launching market with new compact SUV which has already caught many eyes. The small cute looking SUV with simple boxy design possibly confused you with Mercedes G-Class in the first glimpse because of its round headlamps, squared and bulging wheel arches.
Fact 1: Similar platform
The new generation Maruti Suzuki Jimny is based on an existing ladder frame chassis. Whereas, the platform of this new Maruti Suzuki Jimny has a better modification, steering feedback and rigidity. Maruti Suzuki Jimny has SUV features which have 3-link rigid axle suspension along with part-time four-wheel-drive layout. The new MarutiJimny has been developed based on the reviews of an old Jimny. The performance of the new MarutiJimny has off-road abilities and also the robustness of higher than on-road performance. It will acknowledge its market by its perfect ground clearance at 210 mm.
Fact 2: No diesel engine on Maruti Suzuki Jimny
The new Maruti Suzuki Jimny has not launched the diesel version of the Jimny SUV. This time the new Jimny only have petrol filling option entire the globe. Jimny will be showcase in 2020 Auto Expo.
Fact 3: Swift source cabin
You can see the significant changes is done in its cabin area. Maruti Suzuki Jimny comes with all new interior mainly in black colour, which resembles more likely to the new generation swift. This time the cabin is more upgraded with modern features such as A7 inch touch screen infotainment system along with Android Auto and even Apple CarPlay, automatic climate control is also there and many more. On the same time dashboard is designed with simplicity with easy handling control buttons. Since the Maruti Suzuki Jimny is an SUV model, it gets you the descent sitting space for its passengers to sit comfortably. Maruti Suzuki Jimny also gives you the boot space of 85 litres which can be expanded till 377 when the rear seats are folded.
Fact 4: It is possible that in India, MarutiJimny will be accepted as new gipsy
The Maruti Suzuki Company has launched the 3-door version of the Jimny SUV. It is possible that in the future, the five-door model could also be launched. In india, it is also possible that five-doors Jimny could be started as New Generation Gypsy. The new version could come as a lifestyle product. And the new model is more likely to manufacture in Suzuki's Gujarat based plant.
Fact 5: The new design petrol pump is there in Maruti Suzuki Jimny
The details of new MarutiJimny have already been out. The general local media has convicted and revealed the brochures, which are saying that the new model will come with three engine options. The new Maruti Suzuki JDM spec model will also get you the 660cc RA06 3-cylinder turbocharged petrol engine which produces 64PS and 95Nm. However, another driver will have the option of including a 1.0-litre 3-cylinder Boosterjet petrol and also naturally aspirated 1.2-litre engine.