Visiting the mexican caribbean, a paradisiacal place in the world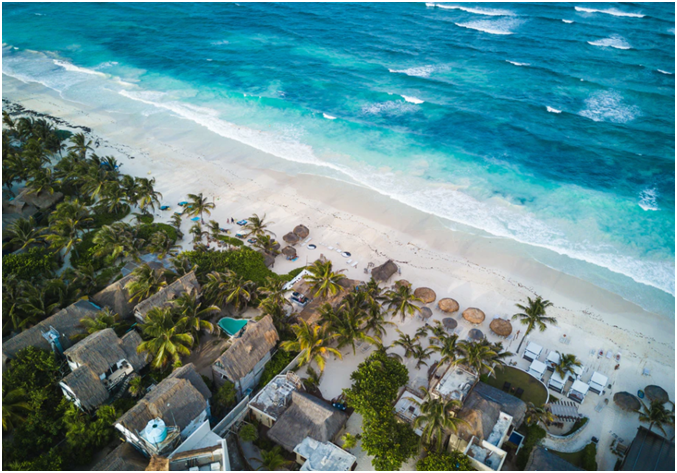 Mexico is undoubtedly a spectacular country, full of colors, music and life. But with so many states to visit, which one to choose? The answer is in the southeast and its name is Quintana Roo.
This diverse state is characterized for being home to paradisiacal landscapes, succulent food and, of course, the Mayan culture. Join us on this tour through the enchanting and tropical state of Quintana Roo.
Cancún (Quintana Roo, México)
Cancun is an ideal first stop on your trip to Mexico for many reasons. The first is that its international airport is the second most important in Mexico – right after the capital – and receives flights from all over the Americas, some parts of Europe, and soon, from Asia.
The second reason: it is a fabulous destination. It has beaches like something out of a Windows wallpaper, a wild nightlife, and plenty of options for fun – one of the most popular being water sports in the Nichupté Lagoon, such as jet skiing, parasailing, flowboarding and flyboarding.
Isla Mujeres (Quintana Roo, México)
The second stop is a short ferry ride from Cancun. This island is so short that you can walk from the northern tip to the southern tip. But in such a short distance you can find an abundance of breathtaking views, delicious seafood restaurants, and super interesting activities.
On your visit you can't miss the opportunity to snorkel at the MUSA Underwater Museum, visit the iconic North Beach – ideal for watching the sunset -, stroll through the Temple of the Goddess Ixchel at the southern tip, and try a delicious fresh coconut.
Playa del Carmen (Riviera Maya, México)
Once back in Cancun, make your way to Playa del Carmen you can easily go to this destination using a Transportation from Cancun to Playa del Carmen. This cosmopolitan city is perfect for relaxing on the beach and shopping. Its main avenue, Quinta Avenida, is lined with stores ranging from the most basic to the most exclusive, all just a few steps from the beach!
Near the beginning of the avenue, you can see a pier with several boats. It is right there where the next stop of this trip through the Yucatan Peninsula begins…
Cozumel (Quintana Roo, México)
This island, also known as Isla de las Golondrinas, is much larger than Isla Mujeres and has a few more things to offer. The most popular of all the activities that can be done there is scuba diving. This destination is internationally recognized for its perfect visibility and abundant marine life – a diver's paradise!
But Cozumel's attractions don't end there, it also has ecological parks, archaeological sites, and El Cielo. This last place is a starfish bay with water so crystal clear that it feels like you are flying while snorkeling.
Tulum (Quintana Roo, México)
With a super relaxed atmosphere, this small town has become one of the most attractive tourist destinations worldwide. And how can you avoid wanting to come to Tulum? If you have the Caribbean Sea in front of you, and the Mayan jungle on the sides, giving it that captivating vibe that characterizes it, only take a shuttle from Cancun to Tulum and enjoy the adventure.
In this piece of heaven on earth, the activities you can't miss are: swimming in the cenotes, biking, visiting the Mayan ruins, taking pictures everywhere – Tulum is probably the most photogenic place in the world! – and try the local gastronomy.