Everything you should know for river rafting in Rishikesh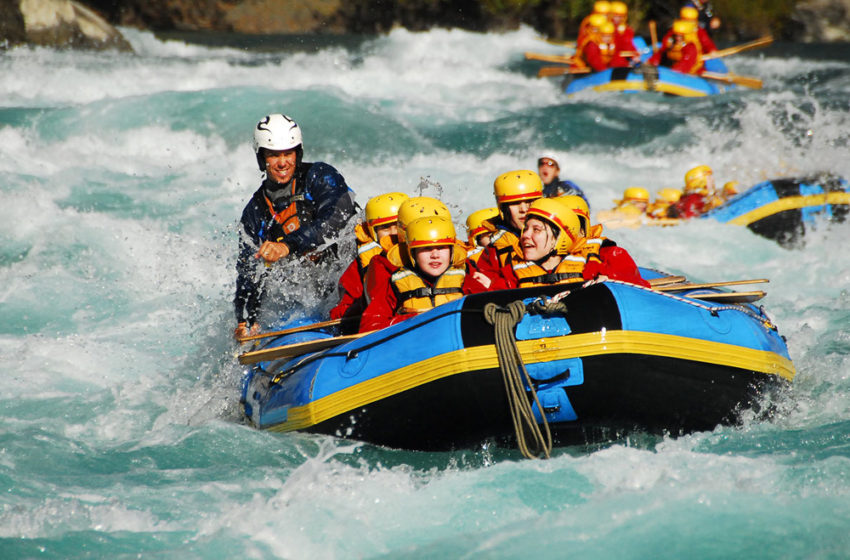 Nowadays river rafting has become a much loved and exciting experience. Riding on rough water waves gives so much thrill and amazement. You can also enjoy this thrilling experience with your group of family or friends. rafting in Rishikesh is blissful and exciting. Rishikesh is one of the most recommended places for river rafting events. If you're trying to make a plan to relax in such a beautiful environment, river rafting packages in Rishikesh can be a great option to relax with your friends or family to visit this year. It is a popular destination for river rafting sports and camping present at the hills of the Himalayas. rafting in Rishikesh is a popular, exciting and thrilling sport that has been there for several years.
The Ganga is known and believed to be one of the holiest rivers in India. Many people from different regions visit this river in search of peace and for its devotion. Therefore, thrilling and adventurous sports adds more excitement to it. If you're planning for a vacation on the weekend, where you can have adventure and peace of being close to nature at the same time, then rafting in Rishikesh can be your best option to go for. As it is one of the most popular destinations for river rafting in the lap of the devout Ganga river. To quench the thirst for thrilling and adventurous trips you can visit Rishikesh and experience the thrill while riding the high-water waves. River rafting in Rishikesh is loved by adventure seekers. Rishikesh rafting will give you a great experience. It will leave you with unforgettable joy and memories.
When you reach here you will find a wind range of events here. As you know there are a few categories linked with each event or camps. rafting in Rishikesh costs and packages can also be quite different. These camps particularly few sports that stand them apart from activities like rock climbing, kayaking, sky ladder, rappelling and cliff jumping like adventurous events.
Now if you're planning about how to do rafting in Rishikesh, and don't know the rafting in Rishikesh cost, we have the answer for you. So, there are four different parts of rafting. As the length of your route increases, it will become more thrilling and adventurous.
• The first part is from Brahmpuri to Rishikesh – this route is only 9 kilometers long (rafting grade I – II) and it is the shortest one. It will get over before you realize and it is performed by kids too. So, if you're an adult you might not enjoy this as much as the next routes. It will cost you rupees 600 or above per person.
• The second part is from Shivpuri to Rishikesh. This one is a medium range. The distance between the two main points is 16 kilometers by road (rafting grade II-III). On your overall experience, you will have more fun on the white-water points. This route will cost you 1000 or above rupees per person. You will find Maggi points here. You will also see that there are arrangements for cliff jumps on every route.
• The third one is from the Marine drive to Rishikesh (rafting grade II-III). This route will cost you 1500 or above rupees per person. This one is the second-longest route and the distance from marine drive to neem beach is 26 kilometers. You will realize that the cost is worthy of your money. On average it will take 3 hours and 40 mins.
• And the fourth and last part is from Kaudiyala to Rishikesh. This route is the most fun as there will be more high-water waves. This one is the longest way to home as it is 35 kilometers long (rafting grade II-IV). Finishing this journey with cliff jumping will make it more memorable. It will cost 2500 or above per person. it will take four hours before you reach the finishing point.
White water rafting or river rafting in Rishikesh is one of the most exciting rafting events. Hundreds of adventure and sports lovers come and visit this place to quench their thirst for adventure. The amusement of river rafting on the unstable and high-water waves of the Rishikesh river attracts hundreds of tourists from far and far.
Rishikesh camping is a blissful way to feel more connected to nature. It is an amazing spot to sit under the sky gazing at the stars and have a coffee. Rishikesh not only
Welcomes adventure lovers for an exciting rafting experience but it will also offer a path for a great adrenaline rush action.
So, what are you waiting for? Come and enjoy our river rafting packages in Rishikesh. The offers for rafting in Rishikesh are thrilling and adventure so this journey will surely leave you with chills and thrills.