Purchasing A 3 Door Wardrobe with Drawers Online Is Easier Now- Find Out How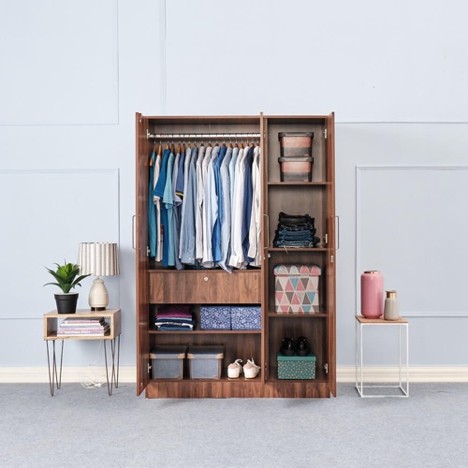 Shopping online has never been easier than it is today. From the traditional marketplace purchases, more and more people are comfortable buying online today owing to the ease in transaction and convenience of making a purchase at the comfort of home. Imagine being able to buy something large as furniture even, online? Nervous about getting the sizes and colour schemes right? No sweat. The benefit of purchasing something sizeable as furniture online is that you get access to the latest collections while having all details about the furniture laid out right in front of you. There are many other benefits of buying furniture online, read on to know how a click of a button can change your interiors.
Why Buy Furniture Online?
Apart from the factors mentioned above, there are few other key reasons why buying furniture online can get you exactly what you want:
Design your space: Get inspired by the many options available online from furniture stores, inspiration boards and catalogues. Design and plan your space based on factors like theme, size, storage options, material etc. Some brands even allow you to virtually place the intended furniture piece in a picture you upload of your living room or bedroom. This gives a better idea of what the overall picture would look like should you purchase the item. All this, without even having purchased it yet!
Online offers: Many brands offer exclusive discounts and offer for purchasing via their online channel. These offers or discounts generally cannot be availed in physical stores.
Purchase anytime: Not sure if you want to buy that amazing wardrobe just yet? Leave it in the cart online and revisit any number of times until you make the decision. Browse, compare other options, decide as and when you wish with no pressure.
Goodbye, long lines: Say hello to more time in hand as you won't be standing in long lines to pay for items you've purchased. Liked something? Put it in your cart and process payment immediately!
Now getting to the exciting bit, how can one buy a solid 3 door wardrobe and online?
Buying a Wardrobe for your Bedroom
Having extra storage options in a space is a definite bonus. Imagine being able to organize your daily essentials neatly behind closed doors or store precious jewellery in locked drawers? The options are many. Wardrobes are traditionally used to store belongings like clothes, accessories, make-up, footwear, skincare and even bedding. In fact, wardrobes today are not just for storage but also adds to the design elements of the room with its colours and finishes. Some of the common and trendy finishing used are mirror, laminate, glass etc. However, these come with their own challenges and do not necessarily stand the test of time in terms of strength and durability. Engineered wood, on the other hand, has the best of both worlds and doesn't compromise on the design element too.
If you are looking to buy a 3 door wardrobe online, here are some factors to consider:
The size of your room plays a big role in the type and size of furniture you intend to choose. Before making a purchase online, it's important to measure the height and length of the walls to know how much can fit in. The wardrobe you choose should not feel overly crowded with the other furniture in place and should have space in front to freely open and close doors. All wardrobe manufacturers online enlist detailed measurements of furniture for you to compare before purchase.
Pick a wardrobe that matches most of your furniture in the room so it doesn't stick out like a sore thumb. While a solid wood colour is the safest bet as it goes with almost any décor scheme, you can always be adventurous and opt for see-through glass doors, leather finishing and the likes. Decide on a colour and texture that is stylish, classy and timeless.
Probably the most important factor for the wardrobe you choose should be plenty of space for you to organize things as per your need. So first things first, understand what things need to be organized. Will it be t-shirts that can be folded or blouses that need to be hung? Will you be storing shoes as well or will that space be used for bedding? Wardrobes with 3 to 4 doors are sure to have different compartments within that support unique storage solutions. Organize your essentials to know what stays and needs to be binned and invest in a wardrobe accordingly.
A strong wardrobe will last long for your daily needs. Ensure to check if the wardrobe material used is moisture-resistant and has undergone termite treatment at the least. This will help increase the longevity of the wardrobe while you get to enjoy the benefits of using one.
Our wardrobes hold some of our prized possessions. Sometimes in the form of jewellery, other times in the form of important documents, letters, books and other such. Having a drawer with a lock means you can safely store these away without being worried about them being wrongly accessed.  Your valuables remain safe, right here at home.
Wardrobes need a cleaning every now and then as they can easily collect dust and grime just like any other piece of furniture. When browsing online, look for wardrobes that can be easily cleaned with the wipe of a cloth and can be easily dismantled if need be.
Keep these factors in mind as you browse to find a wardrobe that suits your bedroom the best. Brands like Wakefit have the perfect juxtaposition of design and storage in their wardrobe options using engineered wood as the material. The rich Columbian Walnut colour adds immediate elegance and style to any room. The additional benefit of buying from manufacturers like them online is that they also deliver right to your doorstep! Buy your wardrobe through reputed brands to avoid any disappointment or variance in the picture and purchase.