How to add your Mobile Number in Aadhar Card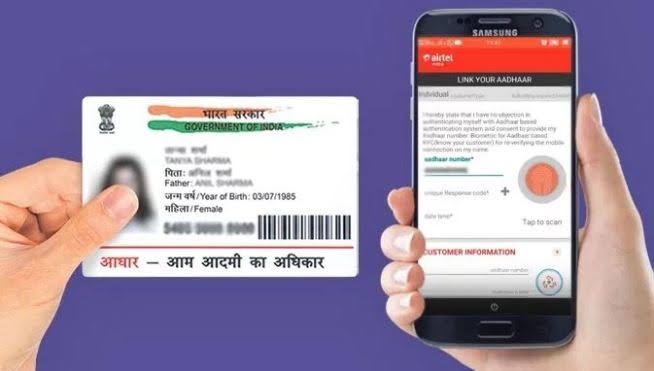 Features for how to update Mobile number in Aadhar Card:
Compulsory to have a mobile number linked to Aadhar: The reason you should add your mobile number to Aadhar is that the entire secure online authentication takes place through OTP that is sent to the number registered with Aadhar Card.
Online Updation: Updating your demographic details on Aadhar cardis quite simple if your mobile number was declared at the time of enrolment. The process can be completed online in such cases.
Update anytime: If you didn't declare mobile number at the time of enrolment or mobile number has changed, you will not be able to add mobile number via the SSUP (Self Service Update Portal).
In such cases, here's what you can do.
Steps to Add Mobile Number to Aadhar Card:
The steps involved to add mobile number to Aadhar or change the same are:
Visit a permanent enrolment centre. You can find a Permanent Enrolment Centre close to you through the UIDAI'Locate an Enrolment/Update Centre' webpage. Visit: https://appointments.uidai.gov.in/easearch.aspx
You will have to place a request with an operator at the enrolment centre.
The operator will fill in the application form.
If documents need to be verified, verification will take place by a verifier appointed by UIDAI, registrars present at Enrolment, or the Update Centre. The verification will be in line with the DDSVP Committee Recommendations.
The operator will then enter the details into the client software.
Biometric details will then be verified.
This will then be confirmed by the operator and their supervisor.
You will receive an acknowledgement receipt.
This receipt will have the Update Request Number (URN). You can use this number to track your Aadhar.
·         Fee for Registering Mobile Number in Aadhar:
The applicant has to pay a fee of Rs.25/- to avail the service when visits the Aadhar Enrolment/Update Centre for registering or updating mobile number in Aadhar.
·         Documents Required:
Only the Aadhar update Form, that contains your current mobile number, has to be submitted along with the fee.
If you like the above information then you must visit our website on Aadhar card .