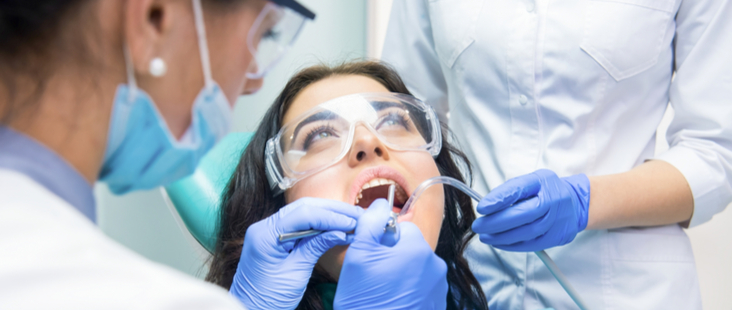 Do you need a dentist in Gainesville who can provide top-tier dental care? Is a beautiful smile important to you?
If so, it is necessary to obtain good dental care with a qualified professional. There are different types of oral health care professionals that could become involved in the care of your mouth, teeth, and gums. Here is a brief description of each.
General Dentist
Your primary care dental provider is a general dentist. He or she diagnoses, treats, and manages your oral health care needs. This care would include root canals, fillings, bridges, veneers, gum care, and preventive education.

All general dentists are either a doctor of dental medicine (DMD) or a doctor of dental surgery (DDS). There is no difference between the two or the requirements that they must meet. Some schools offer one degree while others provide the other.

The education required to become a general dentist is three or more years of undergraduate school, plus four years of dental school. Additional post-graduate schooling is needed to become a dental specialist.
Endodontist
This specialist is trained to handle causes, diagnosis, treatment, and prevention of diseases or injuries to the tooth or dental pulp nerve. 

He or she may perform routine to complex root canal surgeries or other types of root procedures.
Maxillofacial and Oral Radiologist
This specialist is the oral health care professional who takes and interprets x-ray images and data used in the diagnosis and management of disease, disorders, and conditions in the oral and maxillofacial area.
Oral Medicine
Oral medicine deals with the medically complicated patient's care by combining both medicine and oral health care. 

This would include diagnosing and managing oral diseases, such as oral cancer, lichen planus (lacy, white patches in the mouth, sometimes with painful sores), candidiasis (an infection that accumulates in the mouth, also called thrush), and aphthous stomatitis (a canker sore). 

Oral medicine also evaluates more complex medical patients before open-heart surgery, chemotherapy, and other cancer therapy.
Public Health Clinic Dental Provider
Public health clinics that provide dental services promote good oral health through organized community efforts. 

The clinics educate the public through group dental care programs to prevent and control dental diseases locally.

Dental public health clinics provide services such as finding a dentist, initiating dental programs for schools, offering information on fluoridation in the area, answering questions about oral health, and providing other oral health support and resource materials in the community.
Regular dental visits are essential for a healthy and beautiful smile. When deciding on the dentist that will provide your care, some things to consider are:
Is the location easy to get to from your place of employment or home?

Are the hours they provide service convenient for your schedule?

Does your insurance plan cover this dental office?

Communication is vital with any medical professional. Will you need a translator or interpreter during your visit?

Is this dentist a member of the American Dental Association (ADA)?
You may want to ask a potential provider questions, such as:
Will you explain ways to prevent dental health issues?

Are instructions for good dental health provided?

How are emergencies that occur outside of regular business hours handled by the dentist and office staff?

Is the office staff knowledgeable about your insurance plan?

Are financial options for treatment costs provided?

Will your dental records be placed in a permanent file?
The dental provider you choose must be knowledgeable, experienced, and friendly. He or she must provide the services you require, accept your insurance plan, and be affordable if you have no dental insurance.