How to Improve your vocabulary using beeblio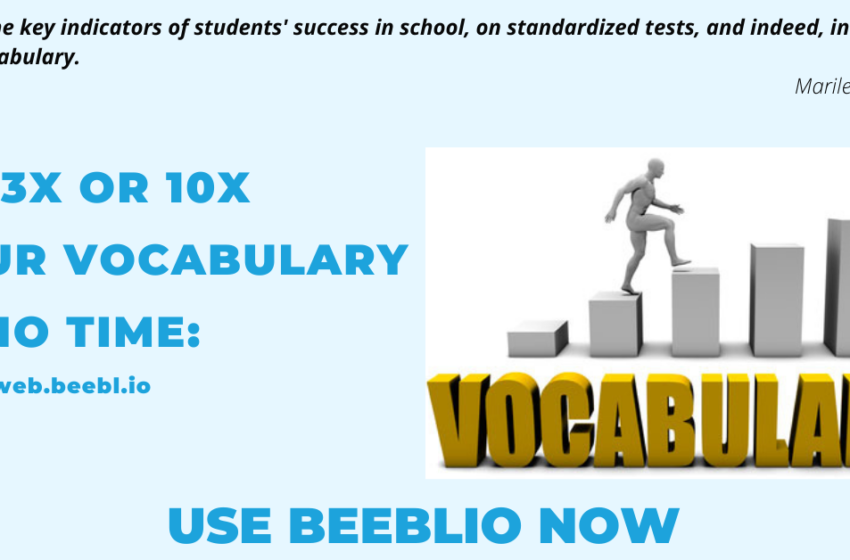 One of the fastest ways to improve your writing and speaking skills is by including new words to your vocabulary. About 4,000 words are added to the dictionary each year. New words are being added all the time meaning there's always something new to learn. The English language is also said to be one of the happiest languages in the world.
Improving your vocabulary helps you speak, write, and express yourself exactly the way you want to. Building upon your communication skills comes with great advantages for both your business and personal needs.
Communication plays an important role in our lives. No matter what field you are in or what you do, you'll need to communicate. Not knowing how to communicate properly can affect your business, friendships, and forming connections with people.
We don't always get to talk to people all the time, you'll sometimes need to send a message through text. Writing properly can only be achieved if you have a expanded vocabulary.
As mentioned earlier, building your vocabulary by learning new words will not only make your life simpler but also build up your self-confidence.  Having the ability to communicate properly is one of the most important skills you need in life.
You'll be able to build stronger bonds with your peers and colleagues. It's never too late to improve your vocabulary. With the kind of modern technology being used in this era, doing so can be simpler and quicker than ever.
What is Beeblio?
Beeblio is an online web application and mobile app driven towards helping you learn new words without the structure of a boring English class or certification course. The application provides a unique experience for each person that uses it so that they can learn new words they specifically do not know. This app makes the process of learning words easier and faster by providing you helpful insights to target the words that need further instructions.
By using Beeblio, you will learn new words faster without any cookie-cutter experience. It was created to make learning new words stress-free and less time-consuming. The goal is to simply provide an easy and fun way for users to learn languages.
Even though it's currently available in English only, and it does require some familiarity with the environment and the device where it is executed, any user above the age of 10 years can benefit from Beeblio.
How To Improve your vocabulary using Beeblio
In order to use beeblio, you'll either need to download the mobile app (available in February 2201) or use its web application by visiting web.beebl.io. You will then need to create an account which will mostly not take more than 5 minutes. After successfully creating your beeblio account, you can then begin to improve your vocabulary by filtering and learning new words.
This is how it works:
Using beeblio is simple! You first need to provide a text content or a public URL or you can also upload a file, to process a private content. After that, The application will filter from the text all the most frequent words of the language (you decide how many of the most frequently used words should be filtered out).
Then lastly, The result is presented as a list of words with useful resources to learn more about them. You can open the dictionary definition, or you can learn, in the context of the text, how to read, spell, and say each word. Best of all: you can save the word and sentences containing it. That is how you can study and practice further at your convenience.
Why Should You Use Beeblio and not any other app?
With Beeblio everything is easy and simple. Apart from its unique design and features, the app gives you complete control over what you decide to learn and when you want. One of the main design objectives is that it keeps everything that the user doesn't need away from their sight till he/she needs it. And when the user needs a feature, it's intuitively available while remaining discreet.
If you want to study a text that was recommended in a class, or build your very personalized vocabulary list, then we think you'll find Beeblio to be quite uniquely positioned to help you. Naturally, vocabulary is not everything when it comes to language learning. But drawing from my own experience, as someone who speaks 3 languages fluently, a good vocabulary is the cornerstone of language fluency.
Who can benefit from using Beeblio?
Anyone looking for a fast, easy, fun way to improve their vocabulary can benefit from beeblio. School children after the 3rd grade, language teachers or tutors of any level, Parents and people studying English for academic purposes, or other specialized uses like ESL, TOEFL, GRE, SAT, IELTS, etc…
Even with people studying business English, and those looking to sharpen their language skills to be better in their fields; these include bloggers, journalists, writers, scientists and so on can all benefit greatly from using beeblio.
Conclusion
This app is a great way to improve your vocabulary skills. You will have access to over 250,000 words to learn from with advanced technology put in place to guide you along the way to achieve your goals within the shortest possible time. By using Beeblio, you'll get an excellent fast solution to a problem numerous individuals tend to face in their everyday life.
Beeblio is a lifelong learning network that goes every step of the way with you. As you improve, your learning becomes more advanced and you can always look back to see how far you have come with its easy-to-use progress monitoring tools. The dashboard offers you helpful insights to target the words that need further instructions. You can visit web.beebl.io or download the app from the app stores (available in February 2021). You can use Beeblio from a computer, a tablet, or a phone. Its design gives you a responsive interface that adapts to your screen.