Interview with Errol Vas: 5 Marketing Tips for Up & Coming Musicians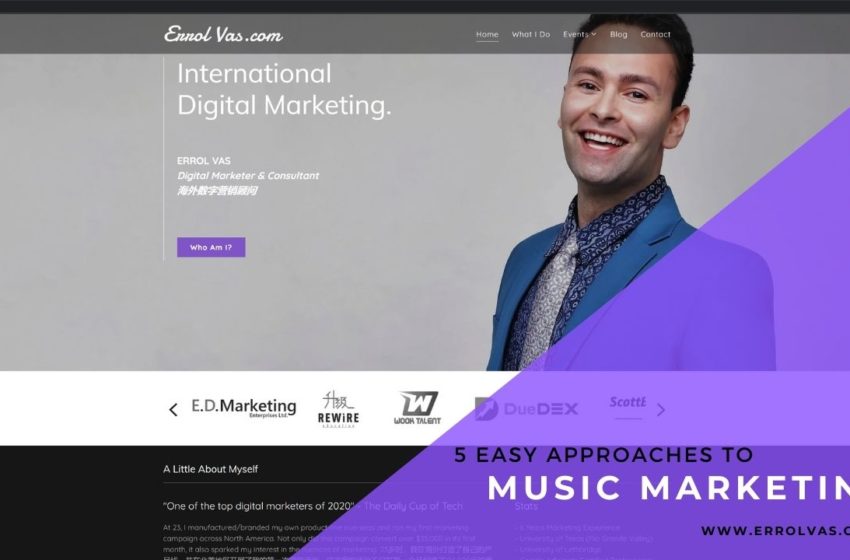 [Walil]:
Introduce yourself.

[Errol Vas]:
My name is Errol Vas, and I am a Digital Marketer, originally from Canada now, living in China. I serve as a Marketing Director, working with Hi-Spec Tools and Mamba Grinders. What's more related to your show is I am currently helping an amazing Canadian musical artist that goes by the name of HOWELLS to promote hIS music. So, I thought today would be a good opportunity to talk about ways that up-and-coming artists can market their music.

[Walil]:
Nice. I'm sure everybody will want to hear more about it. So, what is your first tip on ways they can market their music?
[Errol Vas]:
Tip number one. Marketing is never easy, but I think it's particularly difficult in the music industry, especially for up-and-comers. So, tip number one is, and you may disagree, and other people do, but quantity over quality. Usually, I would never say this, but in a world of online music with marketing, where videos are so heavily influential, it's very easy to get swept away and go unnoticed in the sea of content that is being created nowadays.
Now, if you can get someone to listen to your song on YouTube, whether they like it or not, after they listened to your music, the YouTube algorithm is going to suggest more of your content, which puts you in a good position for more listens and views. That also holds true on other platforms. I'm not saying produce a bunch of terrible music. What I'm saying is quantity is really going to help you instead of having just one good track or one good video.
[Walil]:
Very good information because some artists, they'd rather put up minimum, but the ones that they do put up is their best five instead of having more than five, because it's not, to them, the best representation of their business or music.
[Errol Vas]:
Exactly. I mean, you do want to put out your best work, but I mean, nowadays, with just the amount of content that's being created, it just isn't enough. I think a really good example of this is.. do you remember the rapper Lil B?
[Walil]: Yeah.
[Errol Vas]:
Yeah. So, he came out with literally hundreds of music videos, and they weren't the best quality. It was usually just him walking around with his friend filming, but he was able to come out with a high volume of content. Not all of his music was really good, but he just kind of overcharged his content, and that really helped him excel. So, I think that's a great example.
[Walil]:
Got you, and then with YouTube, with the algorithm, you said once they listen to one of your songs, it'll suggest more to them.
[Errol Vas]:
Yeah, and especially if you have more than just a couple songs on YouTube, if you have a bunch of videos, it's more likely that YouTube is going to suggest your music. So, just having that quantity is really going to help.
[Walil]: What would your tip number two be?
[Errol Vas]:
Number two, this is a pretty basic one… leverage Spotify. So, probably the best way to gain mass listeners and traction is to simply sign up for a Spotify artists account, submit your songs, and pray that you get picked up on a Spotify playlist. Or instead of praying, you can contact Spotify's curation team directly and request to get on these playlists, and the good thing about that is when the listeners are listening to some mainstream songs through playlists, if your song gets thrown into that shuffle, there's a really good chance that you're going to be put in front of a larger audience than if you were just on Spotify by yourself and not on these playlists.
[Walil]:
Great, great tip. What would you go with for tip number three?
[Errol Vas]:
Number three is, I'd say, do what you're doing now, but scale it. What I mean by that is you just need to increase your output. So, if you're reaching out to 25 people per day, you know, "Check out my music. Here's my–." You know, reach out to a hundred. If you emailed your local radio station for a play, reach out to every radio station in your state, or if you've collabed with a couple of artists, why not collab with 50? So, whatever you're doing now, just increase your output. A big part of marketing is scaling. It's doing what you're doing but amplifying it. So, whether you need to just work harder, more hours, or get people to help you, whatever you need to do to do this, scale.
[Walil]:
Great advice, and then the next tip?
[Errol Vas]:
Number four, do some market research and leverage the success of other artists. A good way to go about this is to first find artists that are at a similar level in their career as you. You can kind of base this off of how much content they've put out or how many social media followers. So, reach out to these guys. Do some collabs. Then kind of look at who's a little more ahead in their career than you are, and kind of reach out to those guys and try to work your way up. It's just a really good way for you to start working with artists who have larger followings than you and allows you to leverage their followings for getting some eyes and ears on your music.
A really good example of this is a Lil Peep. I was watching his documentary a couple months ago, and I remember one of his friends saying, "It seemed like the artists that he really looked up to, it would seem like just months later he'd be on tracks with them." That's kind of the route that he took. He just collabed with people and keep kind of working his way up the ladder. I think that's a really good way for any artist to gather a good following.
[Walil]:
Any more tips?
[Errol Vas]:
Yeah. I got one more, and that's to focus on building your infrastructure. So, build your team, and whether you're marketing music or marketing for any other industry, marketing takes a lot of work. So, artists focus on making music, creating a product, and it's in a very competitive marketplace. You'd be very smart to set up a team. Ask a friend or pay someone to run your social medias for you. Find someone to do emails for you, such as emailing radio stations or podcasts. Get someone to book gigs or contact other artists for you.
The more people you have helping you, the more that you can focus on creating your music, creating content. That's really important. If you don't have money, you're going to have to ask close friends or people you can count on. If you have a bit of money to invest in your career, contact some marketing agencies in your area because a lot of agencies have a good Rolodex of contacts and media and could help you get the exposure that you need.
[Walil]:
What would you want to mention next?
[Errol Vas]:
Well, those are the five tips that I have for musicians. I just wanted to give five very actionable tips rather than your generic kind of "try harder" tips. I think these are five tips that anyone who is pursuing a music career, can implement today. So, I think sticking with these five is smart for an up-and-coming musician.
[Walil]:
Now, how long have you been in business?
[Errol Vas]:
I've been in digital marketing for about six years. My main experience is in industrial products, B2B. I've also always been interested in music, so I do like to help out with musicians marketing themselves. Whether you're marketing for a company or marketing for a personal brand a lot of the characteristics remain the same.
[Walil]:
Okay. Now, being in digital marketing, what would you also focus on? Would you focus on, say, LinkedIn or Facebook or IG as well as helping artists use those platforms, or would you only stick to the music platforms like Spotify, iTunes, Google Podcast, or something like that?
[Errol Vas]:
I mean, it's always important to be present on socials. That's for companies, B2B companies, and musical artists. The one thing to consider, though, is social media organically is—I won't say it's dead, but—it's declined very much so to the point where if you're on social media, it's almost a pay-to-play game 100%.
So, if you want people to see your posts, if you want to actually make use of the content you're putting on social media, I strongly recommend paying to boost posts and to sponsor posts just to get more eyeballs on it. I think right now for Facebook, the organic engagement rate is 2%. So, basically, if you have 100 followers, only two of those followers are going to even see your post organically. Then out of the two people that saw your post, you just hope that they engage with it. So, organic reach is very, very low, so I recommend paying for boosting.
[Walil]:
So, when you post it on Facebook, Instagram, and those things it's not as effective and 2%, I didn't realize that. So, that's actually, low, low, low, low, low percentage. Wow.
[Errol Vas]:
Yeah. I mean, it's really low, and it kind of makes sense because that's how these platforms make their money. It's all in advertising. Really, the product for these social media platforms are the people themselves, and their customers are advertisers. Especially now, especially in 2021, it's a pay-to-play game in the social media world.
[Walil]:
You definitely think it's an artist's benefit to boost and to pay for sponsors and run those types of campaigns? It's definitely—because it can get expensive, but you think the return rate is better as far as eyes on it?
[Errol Vas]:
Oh, 100%, and once you start paying and boosting your posts and get more eyes on your content, then your organic reach will increase because, especially if you're boosting content that people are actually liking, they're going to come to your page, and maybe they see the rest of your content, and they'll start following you. Then your organic reach will go up. But especially if you're a new artist trying to boost, yeah, sponsoring and boosting your posts is definitely beneficial, and I would recommend it.
[Walil]:
All right. Now here's kind of a different direction. You got Google Ads, and you also have Yelp, and you could pay Yelp and Google. Would you recommend either of those?
[Errol Vas]:
Yeah. I mean, it depends on what you're using them for. Let's say if you are a musical artist with a competitive name. For instance, the musical artist that I work with in Canada, his name is Howell's, and there also happens to be a classical musician who went by that name. So, when people are searching up this band's brand name, Howells, it makes sense for them to pay for his band to kind of be at the top of the search rankings, or else people are just going to find the classical musician. So, it really depends on the competitiveness of your band name.
Another situation where you could use Google Ads or Yelp would be if your band is open for booking. I mean, so let's say you are in the downtown Denver area, and when you want to target someone who's looking up bands to book in downtown Denver, using Google Ads, you could get yourself to the top and book yourself more gigs. So, I think it would really help for live shows.
[Walil]:
As we close out, where can they find you out on social media and learn more information about you and your company?
[Errol Vas]:
You can find out more about me at my website, www.errolvas.com. I can also be found on LinkedIn. If any of your listeners would like any free advice or any help marketing themselves, I am more than open. They can send me a message, and I would be definitely interested in hearing their story and helping out where I can.
[Walil]:
And final thoughts before you go?
[Errol Vas]: Marketing is never easy. I think it's particularly difficult in the music industry, especially for up-and-comers. It's emotional because musicians pour their hearts and their souls into their music, and they don't even know if anyone is ever going to listen to it. Musicians, follow my five tips, and keep going, keep putting out content, and that's the path to success.
[Walil]:
Thank you. Thank you. Thank you. Great information.
[Errol Vas]:
All right. Thank you very much.
[Walil]: My pleasure.