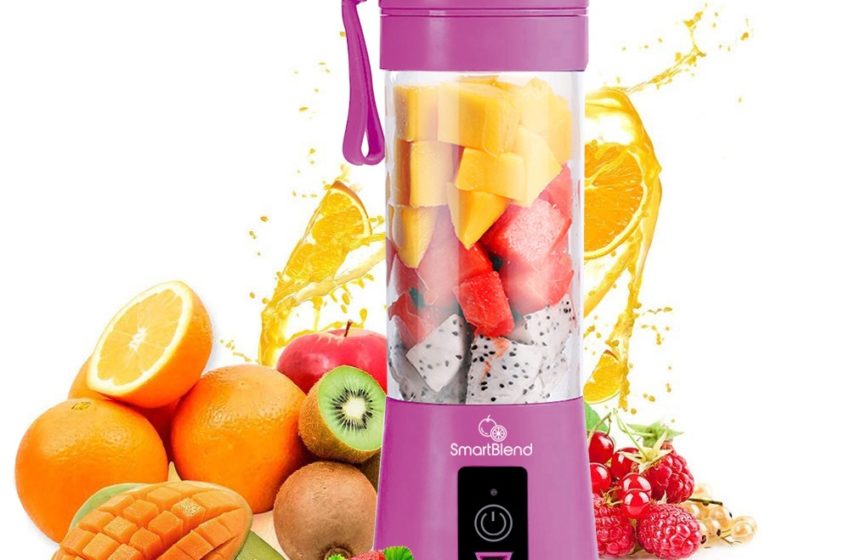 Let's face it; we live in a busy world where the time factor is a rare commodity. We have so much to tend to, families, kids, and work. With all these in mind, the last thing you need is stress in your life. That is why we have brought you portable blenders that will change the way you blend your fruits and vegetables. You now do not have to be home so that you can enjoy your cup of fruit juice. Continue reading the discussion below to find out why our blenders are the best in the industry. 
Enjoy variety
SmartBlend portable blenders come in a wide variety of bright sleek colors that include pink, black, blue, red, green and purple. For the color manias, there is no better way to show your sense of fashion than having one or even each of these colors. The best-case scenario is when you have all the colors to blend with your daily outfit. This allows you to stand out in the office, the gym and in the streets since you become the center of attraction. SmartBlend is your only way out of the monotony of the common blenders that come in single color, hence limiting your sense of style. 
Do not be limited
Going to the office, gym, taking a walk in the streets, hike or nature seeing? SmartBlend's portable blender is your ultimate partner. I am guessing you are wondering why aren't you? Our blenders are smaller than the common blenders, something that allows you to comfortably fit them in a handbag or any other travel bag pockets. Now that is something to be happy about. They are also cord-free, meaning that you use a USB cable to charge, disconnect and go about your business. The best thing about SmartBlend blenders is that they have a large battery capacity that allows you close to 12 times per charge. But even so, this does not mean that you will spend the whole night charging the blender for use to use it the next day; no, you charge it for just 3 hours and you are good to go. You can even charge it in your car while driving to work.  
We are pocket friendly
Even with all the amazing features and simplicity of use, our portable blenders come at an affordable fair price of just $64.99. This is the fairest market price, bearing in mind that the common blenders are way more expensive, yet they are nowhere close to being smart or portable. As if that is not all, you get to enjoy free shipping within the Australian borders. For peace of mind, we provide you with a unique tracking code so that you can keep track of your order while it is being shipped to your doorstep by the very able services of the Australian post. We also ship to our international customers although at a small fee. All blenders come with a guaranteed 3 months return policy. Although it rarely happens since we are confident of our quality, you can return or exchange the blender if you happen not to like what you receive.
Go healthy
The common blenders are not portable; hence you cannot carry them anywhere. SmartBlend blenders, on the other hand, are portable and smart, which means that you get to carry them anywhere, anytime that you feel like. Having this blender anywhere anytime allows you to beat the urge of grabbing a snack but instead, you buy some fruits and vegetables, blend fast and easy, and take that healthy cupful of fruit juice. Better still, you can chop your fruits and vegetables at home and blend them later in your office. You have no excuse whatsoever for leading an unhealthy life. Orders yours today and wait to see how healthy you will get. 
The best blender ever
When designing the portable blender, we had the convenience aspect in mind and as a result, we came up with features that could allow it for carrying it just anywhere. The blender comes in a sleek PP texture stainless steel casing that ensures it does not break in case it slips off the office desk, as well as enhancing the grip in the hand. The casing also ensures easy cleaning and keeps bacteria and germs away. It also comes with a rubber holder at the top lid of the blender so that you can swing it while taking that morning walk. At the front of the bottom lid, is our engraved SmartBlend brand name and logo so that you are sure of our products. 
An easier simple life
Using our portable blender is easy and simple. You just charge it for about 2-3 hours. Chop your fruits into small pieces and add them to the blender. Tighten the upper lid before turning it on. Tilt the blender to about 60° or turn it upside down to turn the ON button at the bottom lid. Bring the blender back to its upright position and hold it firmly as it blends. You do not have to worry about spillage of your contents since this is prevented by a rubber cushion. To ensure your blender gives you a lifetime service, always chop your fruits into the smallest pieces possible to prevent damaging of the cutting blade. Do not add ice before the pieces of fruits since this would also impact the smooth functioning of the cutting blades. Do not clean the blender in the dishwasher since this would interfere with its charging system. 
Final thoughts
With all this information in mind, I hope that by now you have learned why we are undoubtedly your best solution to your portable blender issues. Just like our brand name suggests, our portable blenders are indeed smart and I do not see why you should be looking elsewhere. Order yours today while stocks last and live a good healthy life like never before. Head over to www.smartblend.com.au to get yours now.