What are the top FREE Anime Sites to Watch Videos & Movies?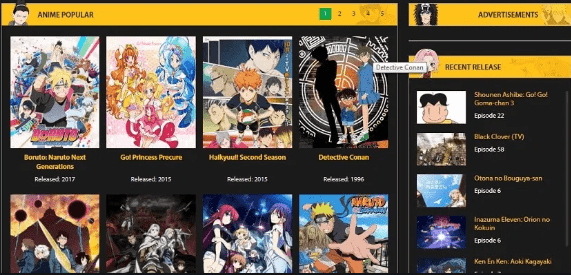 Globally, the otaku communities are growing day by day. If you love to watch Japanese anime then know about the few sites where you can watch anime free from anywhere across the world. Anime is a popular Japanese movie that in all these years has created a cult of its own by entertaining viewers throughout the world. Often the international okatus (anime and manga fans) find it hard to watch the new anime on different streaming platforms. The Japanese anime is now found globally on various OTT platforms such as Netflix, Hulu, Amazon Prime, Crunchyroll, etc. They're also a few websites where you can watch the new episodes, just launched movies and videos on anime for free.
Let's take a quick look at the top free anime websites to watch videos, movie, & series—
KissAnime
KissAnime once ruled the internet as the top streaming platform where viewers enjoyed watching the best quality anime content of HD, 4K, and UHD categories. Though on 14th august 2020, the site got shut down due to copyright issues. But there's nothing to worry about as you can now find another domain of the same name offering fresh anime content for free.
9Anime
With a simple interface, the free anime-watching website is much preferred across English-speaking countries. 9Anime started its journey in 2016 and now ruling the SERPs for being one of the top searched websites for free anime movies, series, and videos of all genres.
GOGO Anime
Another popular free anime streaming website is GogoAnime with a simple interface and a user-friendly navigation system. GogoAnime caters to various genres of anime along with various languages. You can find English, subbed, and dubbed anime from old to the new range here at GogoAnime. Here, Chinese anime dominates.
Ana Yaoi Online
This website only features anime that belongs to the Yaoi genre. This is a controversial website where the relationships of boys and their love are exhibited through anime. This website only entertains anime movie makers with a similar genre. So, if you are tired of school, romance, or adventure and in search of a fresh anime story, then try the Yaoi genre at this free anime streaming web platform.
Animepahe
This is a unique anime streaming website where viewers get the opportunity to watch their favorite movie or series and can also download in the mp4 option. So, if you want to aniwatch  and download the files for future use, then Animepahe is the right free streaming platform for you. Viewers also find the interface simple yet highly user-friendly. Finding any anime is easy via their UX navigation system.
Animexin
This site, like various other popular free anime streaming websites, provides high-quality viewing. However, the specialty of this website is Donghua- or Chinese anime. You can watch China-made anime here based on Manhua that is- Chinese manga. The viewership of this site is pretty impressive.
So, these are some of the top-ranked free anime watching websites apart from the premium Crunchyroll, Netflix, Amazon Prime, Hulu, etc.