How Art Could Be Used To Bring Social Changes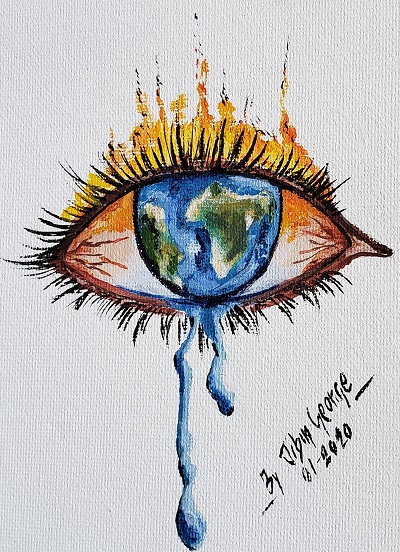 There is one line that was said by Mother Teresa, which goes as, " "Not all of us can do great things. But we can do small things with great love".
The question that needs to be asked in the current scenario is," Is art an impactful weapon in fighting against global warming? "
Multiple times in world history, there have been initiatives to save the world through the use of art in some way or another. One such initiative is being run in the current time. It's called," Art for a good cause " by Jibin George.
This self taught artist organized and International Art competitionon the topic of protecting kids from tobacco. This initiative was taken by him in collaboration with a group called Art Impact International Organization. This inspired Jibin George and gave him the idea to put the foundation of Art for good cause. The best part of this event was that very small kids too participated in it and there were kids as young as 8 years old. The youngest artist who participated in the competition was Lauralle Maria Dev. She was from India. If you want to see the artworks received from her along with the other participants, then you can visit the ArtForGoodCause website. In the year 2020, the Organisation is organizing another event based on the theme – Global Warming.
The artist who's trying to make a change 
The man who has been constantly trying to make a change through this initiative is Jibin George. There have been numerous occasions when the term "art for a good cause" has been used, but nothing of this scale has been done ever. What this person is trying to do is, bringing artists from across the globe on one platform for this cause.
Can the world be changed by art? 
One cannot underestimate the power of art. It is a tool of enormous power. It has got the power to influence society by raising strong and powerful opinions.
In the year 2020, another competition is being organised by "Art for a good cause". It is being organized on the topic of global warming. Some of the major culprits in this climate change are ocean pollution caused due to disposal of non-biodegradable materials along with factory waste in rivers and other water bodies and air pollution.