Places to Explore Nearby Mumbai During Monsoon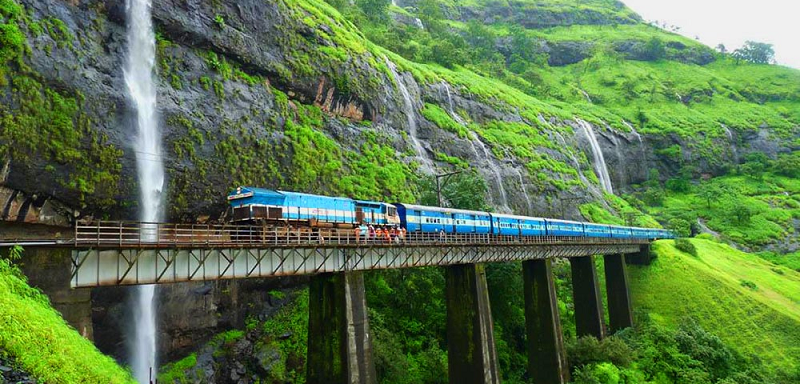 Travel enthusiasts say that the best time to explore the landscapes of Maharashtra is during rains. This is quite evident if you might have ever experienced that the city life of Mumbai when it is enjoying its monsoons. With the very first showers itself, you will see a lot of people gathering in and around the Sahyadri hills, coastal belt of Mumbai, and especially the Western Ghats to experience the best out of this season. Rains add a certain charm to the city of Mumbai like no one else could ever do. Here are some best places to visit near Mumbai places to explore during monsoons –
Lonavala –
When the monsoons first knock the doors of the metropolitan city, the locals here quickly rush to seek a rejuvenating break amidst the twin hill stations of Lonavala. The monsoon beauty of Lonavala during monsoons is beyond one's imagination.
Distance from Mumbai – 83 km
Alibaug –
Alibaug is one of the famous coastal towns that Maharashtra has been blessed with. Located towards the southern end of Maharashtra, the place is blessed with some gorgeous beaches and an age-old fortress. Nagaon Beach, Kolaba Fort, Undheri Fort, Varsoli Beach, and Mandwa Beach are some of the places you shouldn't miss exploring. At the same time, you are on your visit to Alibaug.
Distance from Mumbai – 95 km
Mahabaleshwar –
Another brilliantly evergreen place to explore near Mumbai during monsoons is Mahabaleshwar. With an elevation of 1353 meters, it is a perfect place to embrace the natural beauty where the clouds kiss and hug the green hills. You can also see what people thinks about this destination at thrillophilia reviews.
Distance from Mumbai – 263 km
Panchgani –
Apart from being known for its premier educational institutions, the Panchgani transforms itself into green heaven nestled amidst the lap of Sahyadris during monsoons. Sydney Point, Parsi Point, and Table Land are some of the key attractions at Panchgani.
Distance from Mumbai – 244 km
Lohagad Fort –
If you are looking for an adventurous activity to enjoy in winters, Lohagad Fort Trek is by far the best thing to do near Mumbai. With a height of around 1033 meters from the sea level, the Fort of Lohagad offers stunning views of the clouds trespassing the verdant valleys. This is one of the captivating places to visit near city of Dreams-Mumbai.
    .
Distance from Mumbai – 99 km
Kolad –
Kolad, a small village in Maharashtra, is popular amongst all the river rafting enthusiasts. Early mornings, the doors of the Kolad Dam are opened to let the water reserves to flow. This magnificent quantity of the water makes it heaven to put all your river rafting skills into foreplay.
Distance from Mumbai – 127 km